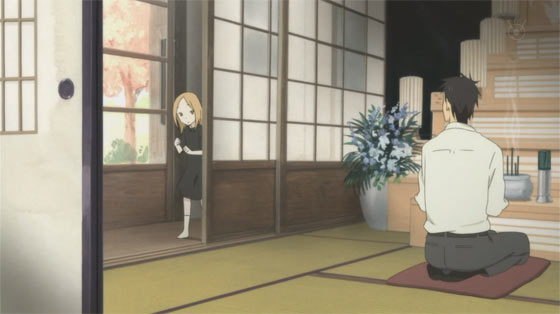 Out of all the shows this season Usagi Drops really stands out but in a very good way. It's drama but subtle and realistic drama without all those overdramatic tones we see usually. It's slice of life but it doesn't focus on the usual suspects of four girls doing cute stuff. It's also (not only) about thirty year old Daikichi. And most importantly it's about bringing up a child with all its wonderful and problematic consequences.
In any case the setup of this series is quite impressing if you ask me: When Daikichi visits the grandfather's funeral to give his last blessings, he learns that the old geezer had an illegitimate child named Rin with the age of 73 and raised her for the next six years without a mother! It's something you don't see that often but judging by Rin, the old geezer did a fantastic job in raising her.
I'm pretty sure that up to his death both Rin and her father were extremely close to each other, spending each and every free minute together. They were playing games, doing housework and most likely, her father (the old geezer) filled her up with his wisdom he gained over the years. You can see this in almost all of her actions, most visibly the cat's cradle game which she seems to be really good.
I think it's this unusual upbringing that makes Rin who she is, although she got quite a heavy dose of intelligence right from the start as she acts extremely grown up for her age and under those circumstances. Seriously, it's amazing how well she behaves because this is probably the first time she's completely alone, despite (and because of) being surrounded by people she doesn't know, knowing very well that her father won't be together with her anymore. Because of all of this the moment when Rin places some flowers on her dead was extremely heartrending. The fact that the other adults didn't even try to console her made it even worse in my eyes. Nobody gave her some emotional support which only increased the feeling of loneliness that surrounded her. It's a wonder she didn't break down.
Despite all this heavy baggage the episode still managed to have a very heartwarming feeling to it because it not only has many cute and funny moments but also made clear right from the start that Daikichi and Rin are meant for each other. In other words it wasn't a question of who but only a question of when. The fact that everything is played out so subtle with so few words made it really touching, and you can't do anything else than applaud those two for truly finding each other at the end of the episode.
Judging by the beginning I'm quite positive that the anime will be a faithful and therefore fantastic adaptation of the manga. If done right, this series might become one of the very best this season.
The fantastic soundtrack already is in my top list of this season by the way. At the moment nothing else comes close to it.
Anyway, I can't wait to see the next episode where the life of the newly formed family truly begins with all its heartwarming hardships.