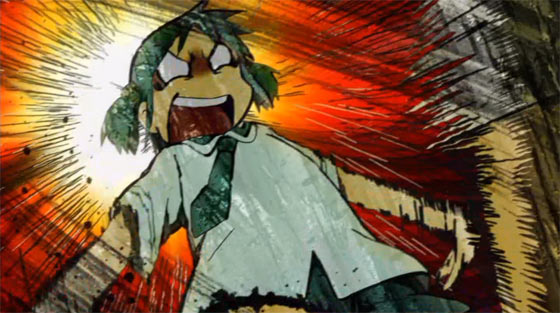 Hands down, this is one of the best episodes if not even the best episode of Nichijou yet, containing the most epic moment since the principal German-suplexed a deer in school and Mio desperately chased after her note book.
It's quite interesting to note that Nichijou slowly but surely seems to walk into a territory where the episodes are less random and have some kind of coherent plot going on. Last episode marked the beginning of this transition and this episode went further than any episode before. Of course, this might change back to the usual random jokes again but I have my hopes up that Nichijou will keep this level of storytelling.
As Takaii from Random Curiosity I have to admit that it never occurred to me that Nano, once she enters high school, might be the fourth member of our beloved girl group. Nichijou trolled me here really well because after 12 episodes it was common knowledge to me that Nano is part of the series but not part of the other characters. It never bothered me because Nichijou was so random at times that this never stood out. In hindsight, though, her introduction makes absolutely sense now because with her addition, the essential four girl group is now complete, including the mighty hothead, the stoic troll, the idiotic genki, and the wide-eyed blushy. I can't wait to see how this plays out in the later episodes and I have my hopes up that it will become a great and funny watch.
Another big change I noticed was the different tone. In all episodes up to episode 12 Nichijou is the anti slice of life series, showing a world of constant trolling. Be it trolling by friends or trolling by the environment. Trolling's still a big part of this episode but it's not its main attraction. In this episode Nichijou really felt like a slice of life series which had its fair share of trolling here and there. I don't know if this will keep going but my guess is that the trolling will play a bigger part again starting next episode.
Nevertheless Nichijou still managed to deliver on the cute side of things. Nano was especially cute this time with her being all sparkly and bubbly because of her new beginning school life. Her entry into school life and her introduction full of embarrassment was epically adorable. But Hakase also was extremely "dawwww" when she offered Nano a Snickers and notices too late that school life means to be absent from home until late afternoon.
The Go Soccer Club offered the biggest WTF moment of this episode and some of the most epic trolling of the series thus far. Much to the utter surprise of the lazy club president, Go Soccer really exists as a former Go-Soccer MVP of a middle school tells us (I can't wait until Jason from blogsuki blogs about this episode (MVP, my friend, is the keyword)). It's a game in which you're lifting a soccer ball while playing Go and finish everything with several flashy moves. I don't know which mouth hit the floor harder, the president's or mine. Certainly, as the president says, things have gotten interesting (lol).
The main highlight of this episode is the epic fight between Mio and Yukko. It starts with a silly mistake of mishearing things (yakisoba vs. yakisaba) and slowly develops to a fight of galactic proportions. I know these types of fight very well where you end you wanting to send the other party to the moon and start to say things you deeply regret later. So it's amazing how well Nichijou got it right. The slowly developing reconciliation was perfectly done albeit being a little bit cheesy because I never experienced something like that. But I might be an exception. Nevertheless I got a big smile when the two girls hugged. Nano being all sparkly because of this was the icing on the fluffy cake.
Oh yeah: The first time I saw the new ending with Tsubassa wo kudasai I went mental. Anyone who watched Rebuild of Evangelion should know why. For those who don't know why: although the song is from 1971 and well known throughout Japan, to me this song will always be the song of Shinji going "Fuck the world, I'm saving Ayanami".